Reports & Statistics
Ensure proper documentation of all your operations
Reports & Statistics
Ensure proper documentation of all your operations
Your FlightLogger flight school management platform quickly becomes a central resource for storing and documenting your entire operation. Our advanced reporting and data exports allow you to utilize just the data you need.
Find and extract exactly the data you need using our analytics tools and predefined as well as customizable reports – or simply export a full raw data report and use it for 3rd party systems, business intelligence, etc.
Get a quick glance of your academy's performance
Get a quick overview of how operations are going at your training organization. FlightLogger Analytics provides the key figures you need to stay updated on your most important performance indicators, such as number of bookings and flights, training program utilization, etc.
"FlightLogger tracks our aircraft maintenance needs and provides timely reminders, allowing us to balance our essential inspections and safety certification with the training needs of the academy.

It also provides full booking statistics, fuel reports, and block and flight hours reports to help us monitor our productivity and profit as a business."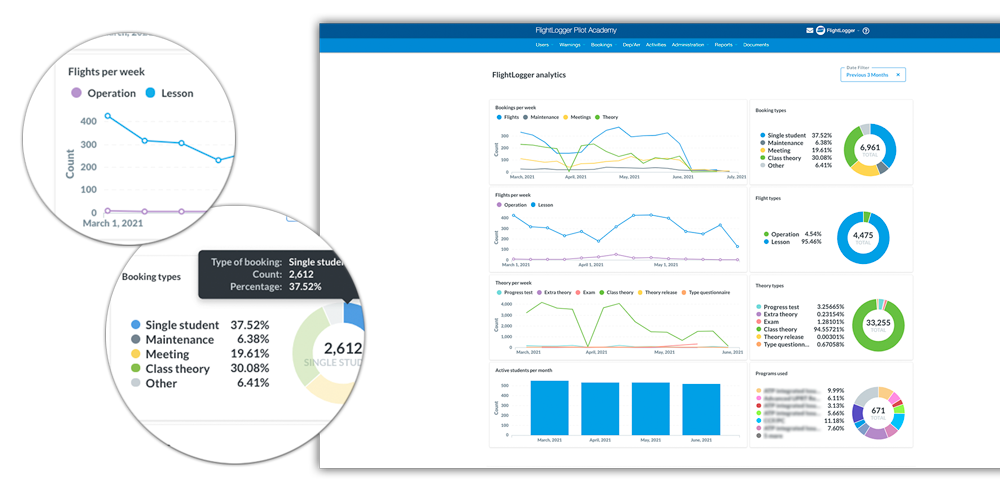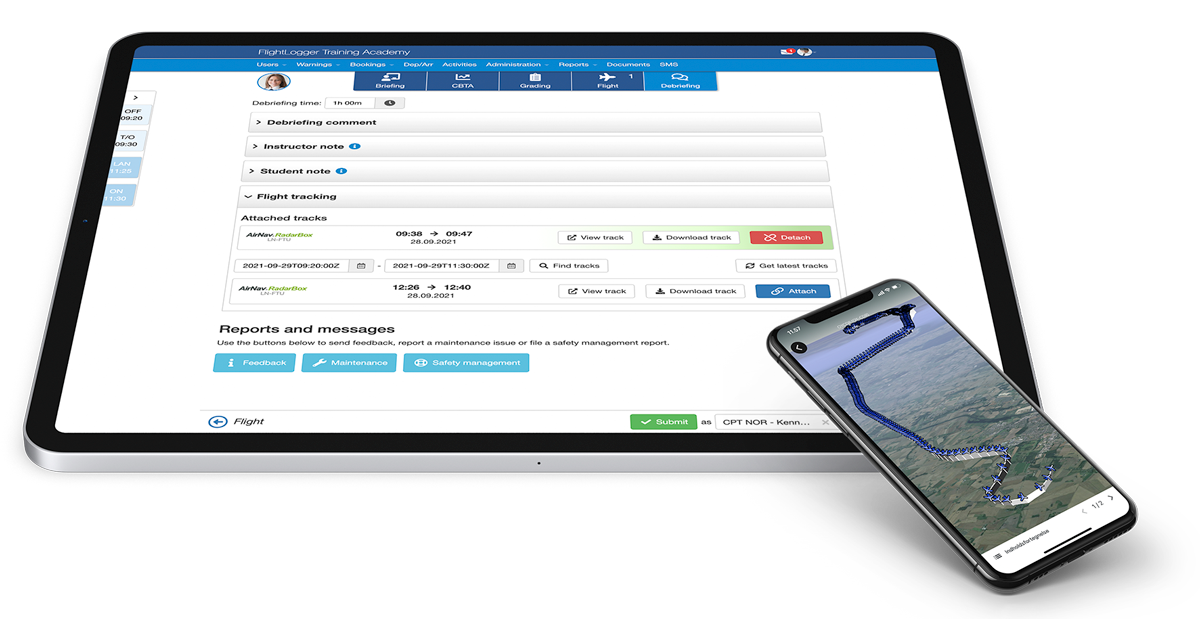 NEW FEATURE:
Retrieve and store flight tracks from AirNav RadarBox
Say goodbye to expensive aircraft tracking hardware!
Using FlightLogger's seamless integration with AirNav RadarBox, your aircraft flight tracks are automatically retrieved and stored inside FlightLogger for free. View and download flight tracks right where you need them, whether it's during flight debriefing or later on.
(Requires an AirNav RadarBox business account with API subscription)

Access pre-configured reports for any purpose
FlightLogger offers a wide range of pre-built, exportable reports, each providing valuable information on your resources, activities, etc. Exports the reports manually or have them automatically synchronized to your own storage. These are some of the areas covered by our built-in reports:
Accounting
Aircraft and airports
Bookings and cancellations
Fuel
Safety management
Warnings (flight time, certificates/medicals, maintenance, etc.)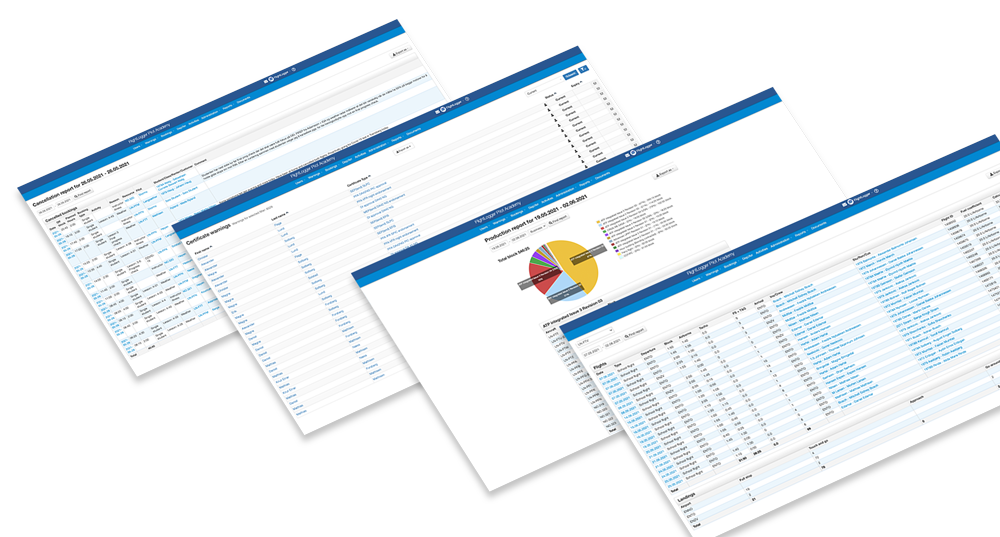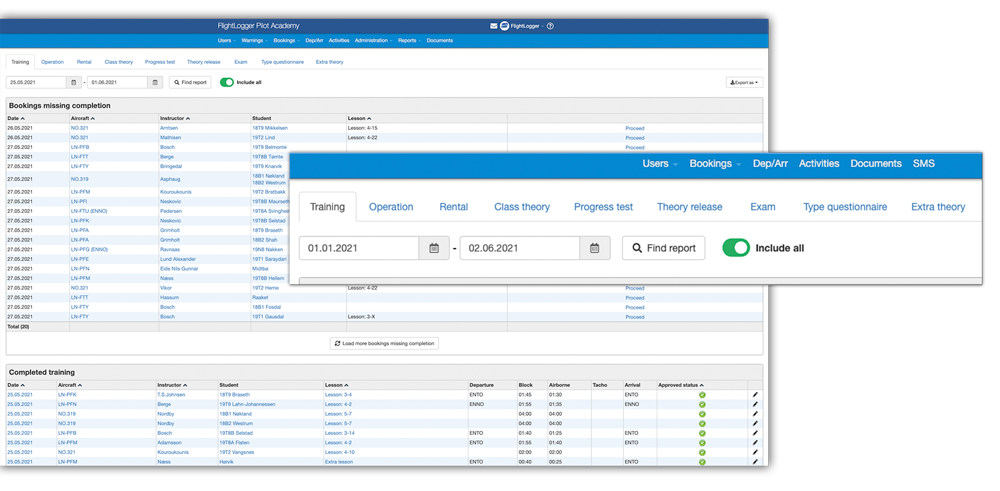 Identify any planned and completed activities
Need to get an overview of specific activities inside your organization? FlightLogger has made it easy to identify any activities completed within a certain time span, divided into relevant categories like lesson flights, operation flights, rentals and various theory categories.
Also identify any planned activities that haven't been completed by your staff, to follow up and ensure that your records are always compliant.
Export raw data of flights and theory
Would you rather like to export data to create your own reports or to use in a 3rd party solution? No problem. FlightLogger allows for manual or scheduled* raw data exports in the most commonly used file formats.
*automatic report exporting can be done on a daily, weekly, or monthly basis (requires that you have the Data Backup Module).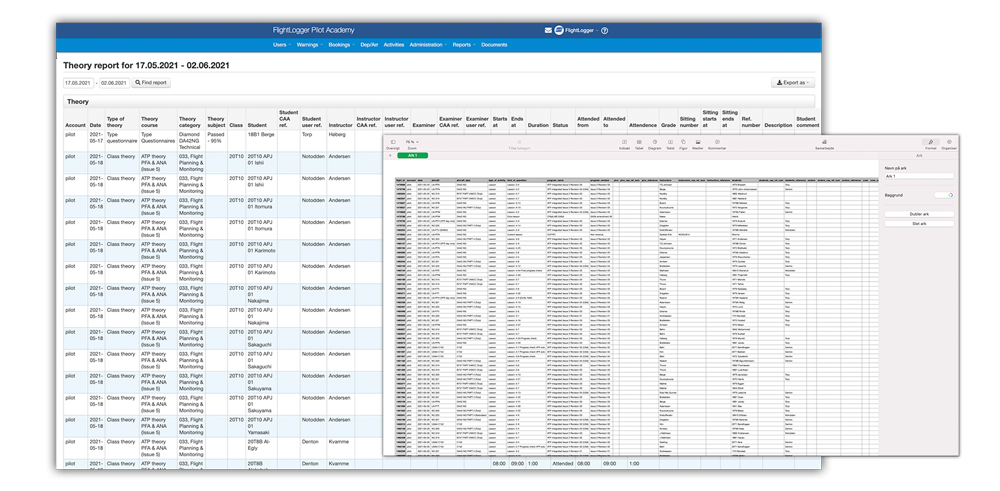 Ready to learn more?
Month-to-month subscription. No long term contracts. Full support included.