Add-ons
All the small things that make a big difference
Add-ons
All the small things that make a big difference
FlightLogger comes with an impressive featureset. Still, we offer some extra functionalities for those who need it. Check out our Data Backup Module for a 3rd party data backup and the QuickBooks Integration Module for streamlined billing.
Add our User Balance module to manage economics. Choose our Flight Time Limitation module to help your pilots stay compliant. Or add our Safety Management System to handle incidents. 
Streamline invoicing with our QuickBooks integration
Using QuickBooks for accounting? Effortlessly generate QuickBooks invoices based on flight and theory activities logged in FlightLogger.
The integration thereby reduces administrative overhead and saves you valuable time for billing your students and customers.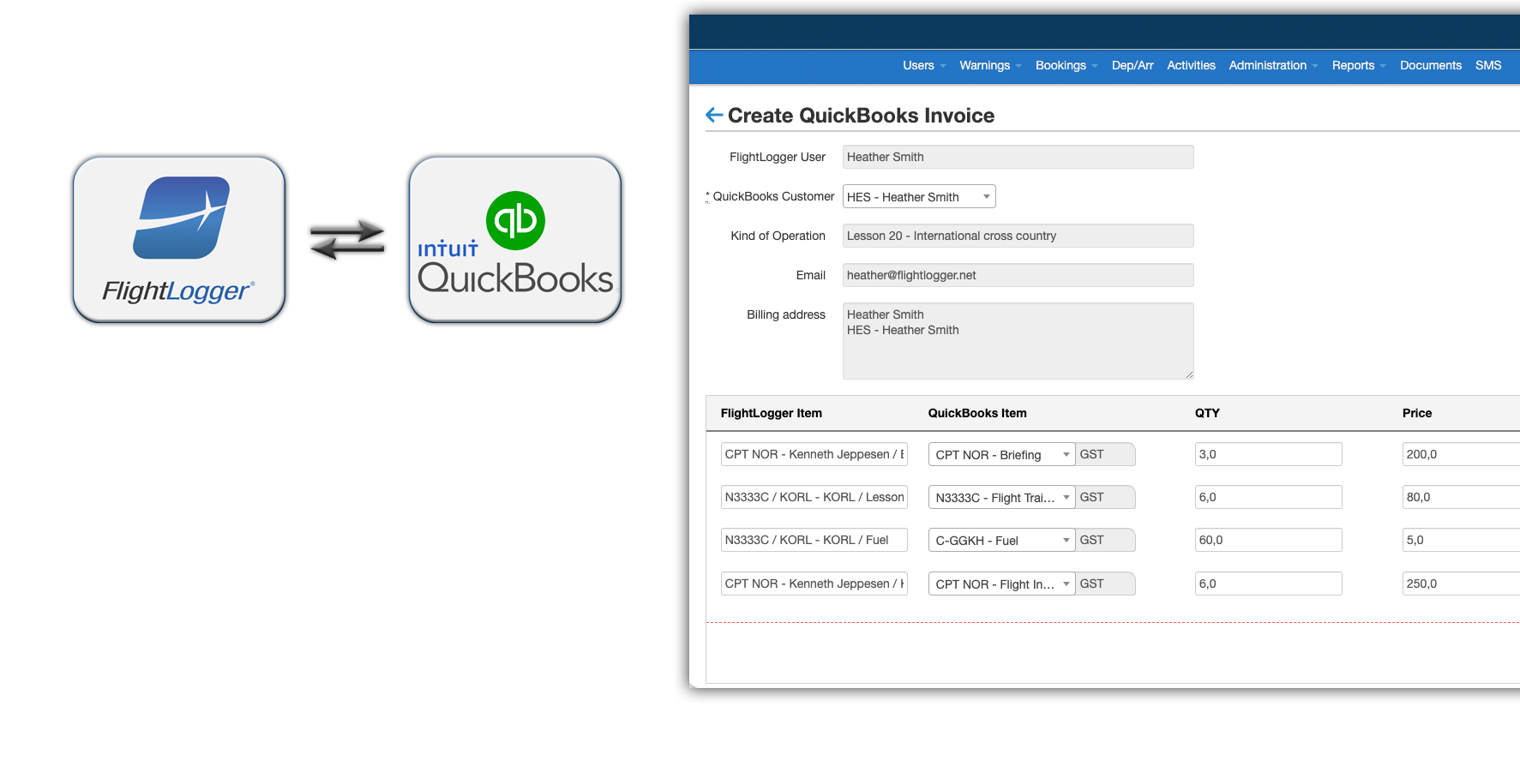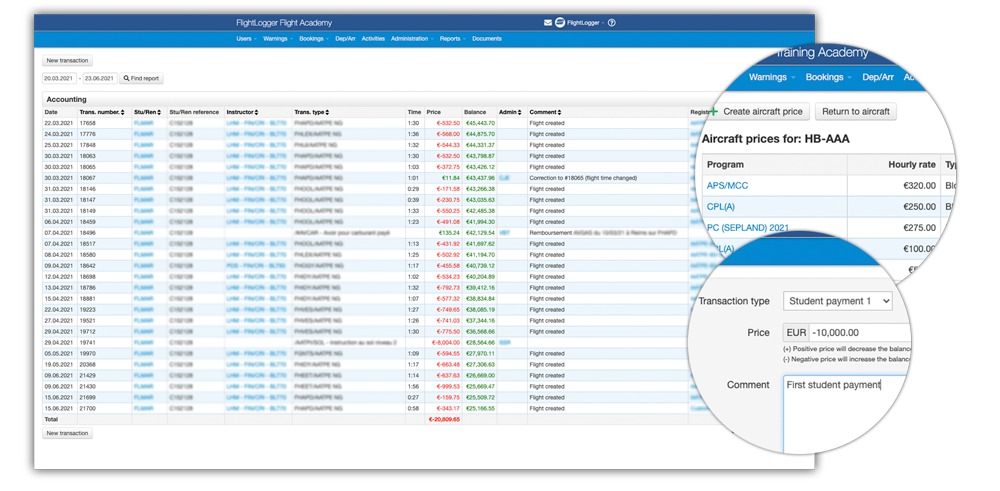 Keep track of user balances
Need a system to keep track of balances on your students and renters?
FlightLogger's User Balance Module immediately updates the student and renter balances each time a new activity is registered and warns when the balance is getting low. Advanced pricing options enable differentiated pricing based on all of your aircraft and training programs, while individual discounts to students and renters can be added in just seconds. 
Synchronize/backup your flight records and documents
Want to have all your flight data, student records, and documentation outside the FlightLogger platform as well?
Our data backup module automates the task of synchronizing all your registrations, gradings, reports, documents, and other files – in intervals set by you. Meet any data storage requirements and transfer data for your own business intelligence or 3rd party systems – currently supporting Dropbox and Microsoft OneDrive.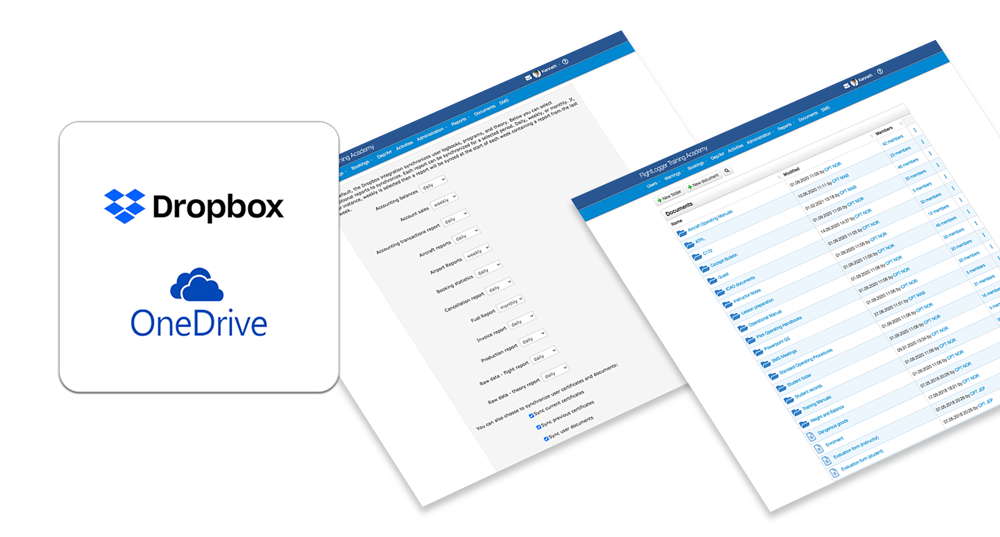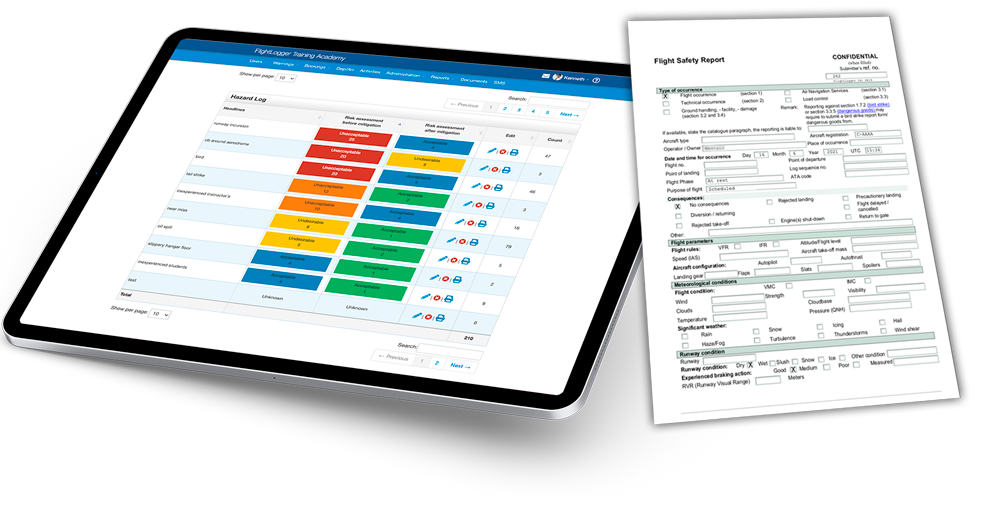 Handle safety management with FlightLogger
To make sure your flight safety is handled in a timely and safe manner, reporting a safety incident should be made easy for your students, instructors, crew, and renters.
Using FlightLogger's built-in safety management system your users can efficiently file a safety report to automatically notify your safety manager(s) when incidents occur – including hazard logs, risk assessments, and statistics.
Easily monitor flight and duty time limitations
Why not make FlightLogger tell your instructors, crew, and students when they are at risk of exceeding flight or duty time limitations? 
With this add-on, you can set up your own custom limitations and have FlightLogger automatically display a warning in all the relevant places, for example when scheduling a flight. Track duty time using FlightLogger to monitor duty time limitations and to streamline how you manage duty time-based salary calculations.