See how FlightLogger helps streamline your flight school's operations to become compliant, efficient and ready for growth.
Let us show you the value of FlightLogger
Not only administrators, but students, instructors, renters, crew and staff appreciate the user friendliness of the FlightLogger platform.
To see why our users recommend us to flight schools around the world, why not book an online demo of the platform and invite your colleagues to join for a walkthrough of the platform?
We are more than happy to invest our time in sharing with you how the FlightLogger platform improves your daily operations management, and it's of course without any obligations.
We'll explain in detail how FlightLogger stands out from the rest on usability and features. See how your daily operations would look from the perspective of all the different user roles in your flight school.
We'll show you how to keep track of your users, training programs, certificates, scheduling, gradings, aircraft maintenance and so on.
In short, we'll show you your future flight school management system.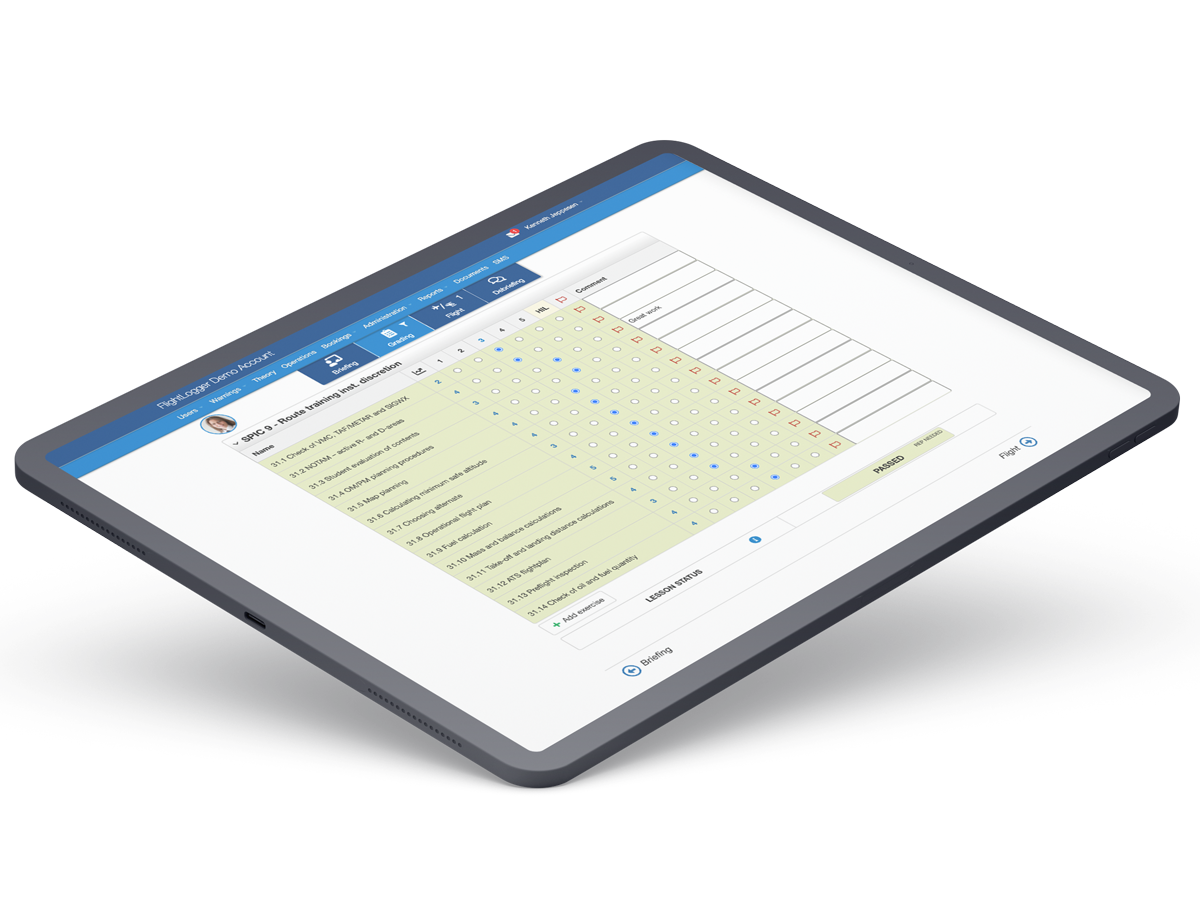 Here is what you get from us
After a brief intro to our company you'll get a 1-on-1 introduction to how the FlightLogger platform can help your flight school. These are some of the areas, we will cover during the online demo:
Managing your users (admins, instructors, students, crew and guests)

Managing certificates and other documents

Booking lessons, theory classes, exams, instructors, students, aircrafts, classrooms etc.

Registering lessons including attendance and grading

Managing aircraft maintenance and safety management

Reporting and exporting data

for invoicing etc.
And this is how we do it
Typically, we'll invite you to a Google Meet session with a live demo showcasing the entire FlightLogger platform. The meeting takes around 1-2 hours depending on the amount of questions and requests that might arise during the demo.
You will get a good idea how FlightLogger improves your flight school operations both as an administrator, instructor, student and crew.
Book now for a live demonstration and become a part of the future for aviation.