Student preparation
Proper preparation prevents poor performance
Student preparation
Proper preparation prevents poor performance
Give your students a structured toolset to always be well-prepared for the next flight or theory session. With FlightLogger, students get an easy overview of upcoming activities using a computer, tablet, or smartphone.
Standardize lesson briefings and make relevant material available for the students wherever they are. Provide easy upload of weight and balance calculations or any other documents.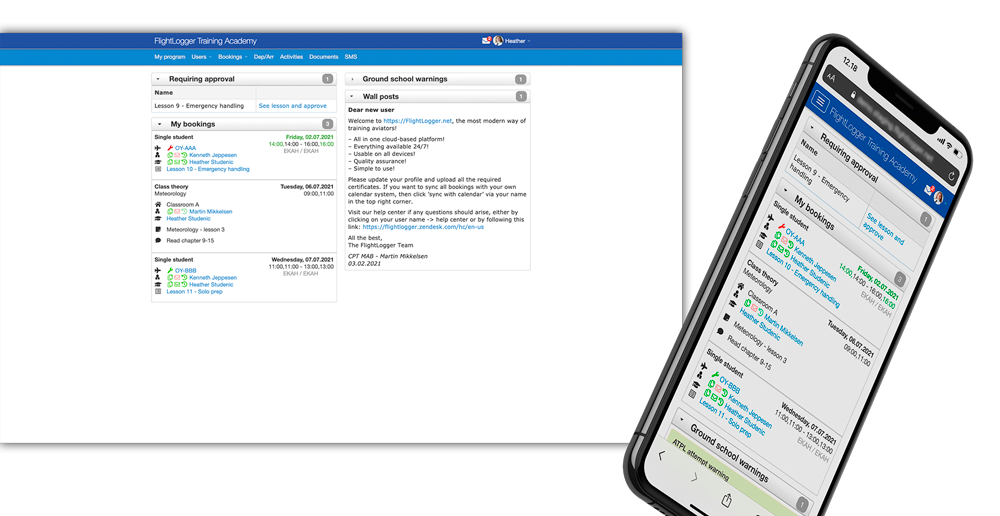 Center of information for your pilot students
FlightLogger has plenty of features to help your students stay on top of their pilot training.
At login, students can view booked sessions and be notified about expiring medicals and other requirements as well as new messages sent via the built-in Message Center. Even better, publish important messages to your students, instructors, crew, and staff using the wall post feature.
Provide structured flight training in a flexible training environment
Student pilots of today expect a modern setup for their education. Simplicity and availability are key to satisfying your students' expectations.
FlightLogger provides an anywhere accessible platform for your students to do their preparations at home, at the campus, or wherever they prefer, using their favored device.
Enrich lesson briefings with videos, documents, calculators, etc.
Give your students all the necessary documentation right where they need it.
Enrich lesson briefings with walkthrough videos and other content stored in FlightLogger's Document Center. Link to any external source to provide just the content your students need to be well prepared for the next lesson.
Students see previous lessons and upload preflight preparations
With FlightLogger, students can easily upload preflight preparations to have it available for the briefing. This also ensures that all relevant documentation is securely stored and structured in one central database.
With a single click, students can study grades and comments from previous flown lessons to prepare even better for the next one.