Why FlightLogger:
Meet the modern way to manage a flight school…
FlightLogger is the most comprehensive digital platform for managing the typical tasks of a pilot academy. So much more than just a scheduling tool, FlightLogger is a potential game changer for your flight school.
Se here's why you should choose FlightLogger:
Make Scheduling a Breeze
Building your flight school schedules has never been easier than with FlightLogger. Know when students and instructors are available and book your resources in seconds using intuitive drag-and-drop menus.
Save time and stay in control using FlightLogger's user-friendly scheduling interface.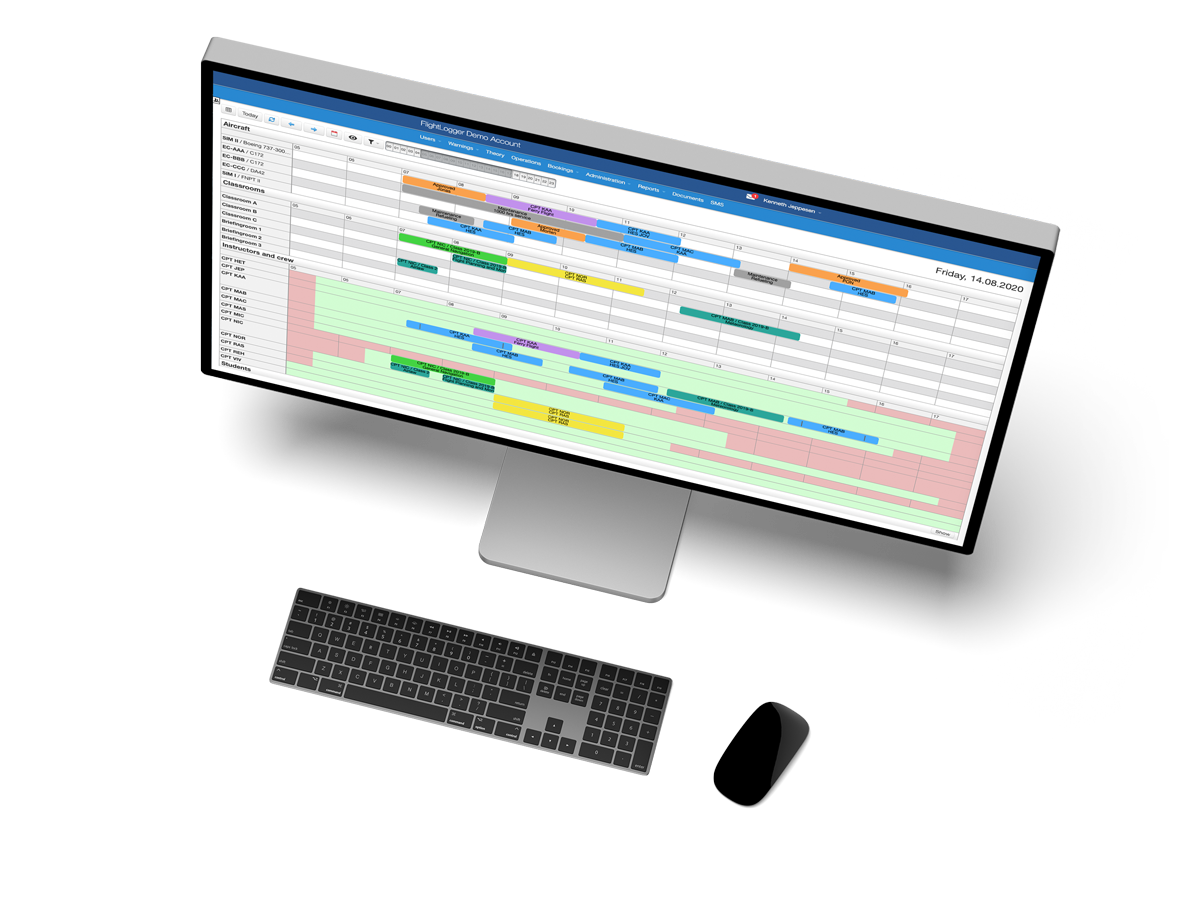 Improve Quality of Training with Student Insights
FlightLogger serves as your school's central data hub containing all the information you need on your students. Store information like contact info (including emergency contacts), medicals, certificates and other documents and keep track of current status of all students.
FlightLogger provides one-click access to students' lesson progress, gradings and attendance, exams, accounting status, availabilities and much more, allowing you to provide the optimal training for each student.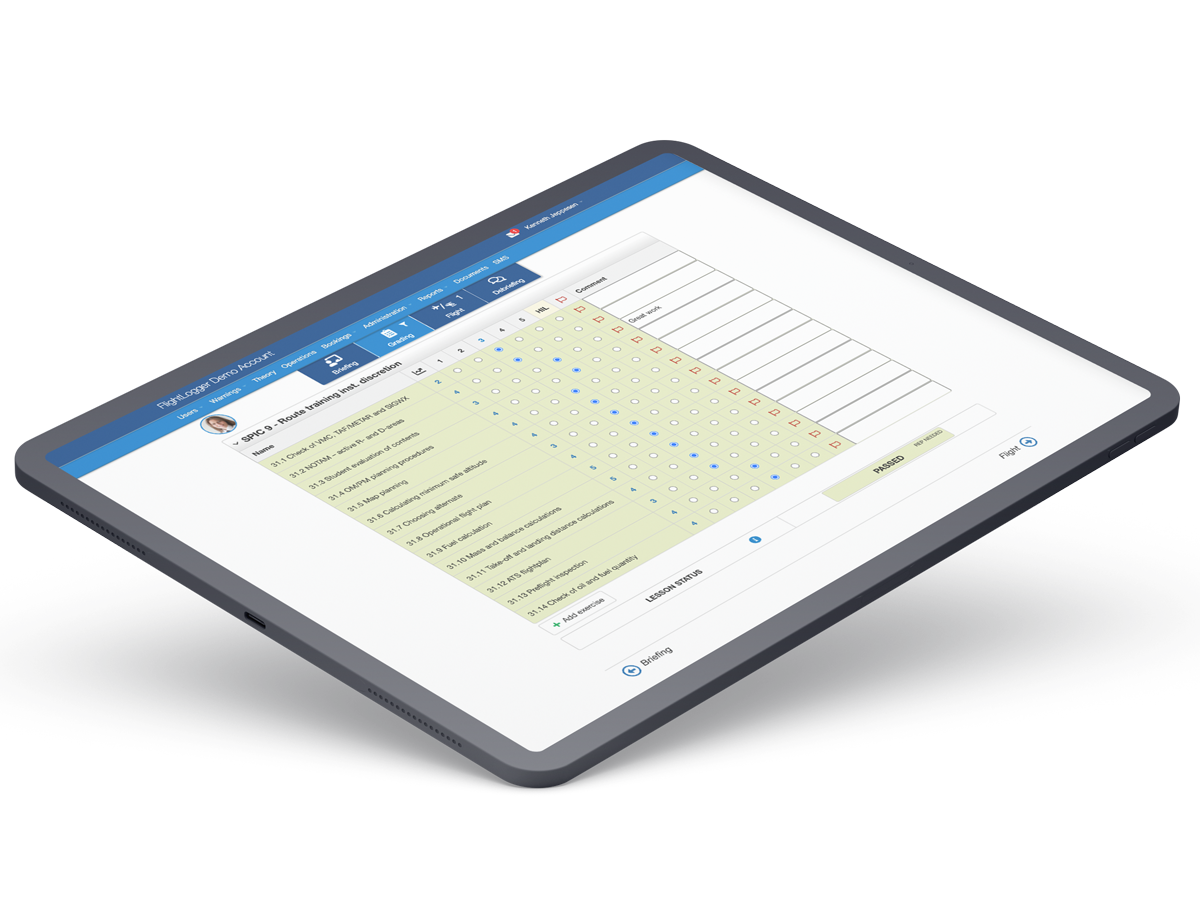 Register and Grade School Flights while in the air
To ensure quality flight training your instructor's registration and grading should be completed on the spot, whether online or offline. Take FlightLogger flying with an iPad (or any other mobile device) and complete the registration while in the air.
Fill in lesson grades and add extra exercises on any device. FlightLogger automatically syncs the data when back on the ground.
Always Stay on Top of Tasks
FlightLogger registers all your data in one place. Every booking, registration and correction automatically gets to the right place, making sure your students, instructors, classrooms, aircraft, certificates and other documents are always up to date and accessible.
Your users have everything at hand to stay on top of their tasks by always knowing if they have any undone activities. Automatic warnings make sure flights are always compliant in terms of flight hours, maintenance, certificates and more.
Be Prepared for Audits
Every time a flight lesson is booked, a course theory is registered, a grade is given, or a certificate is renewed, your system is instantly updated.
No paperwork needed – complete documentation of all your academy's activities is never more than a click away for you – or your local CAA, who you can allow a limited guest access in seconds.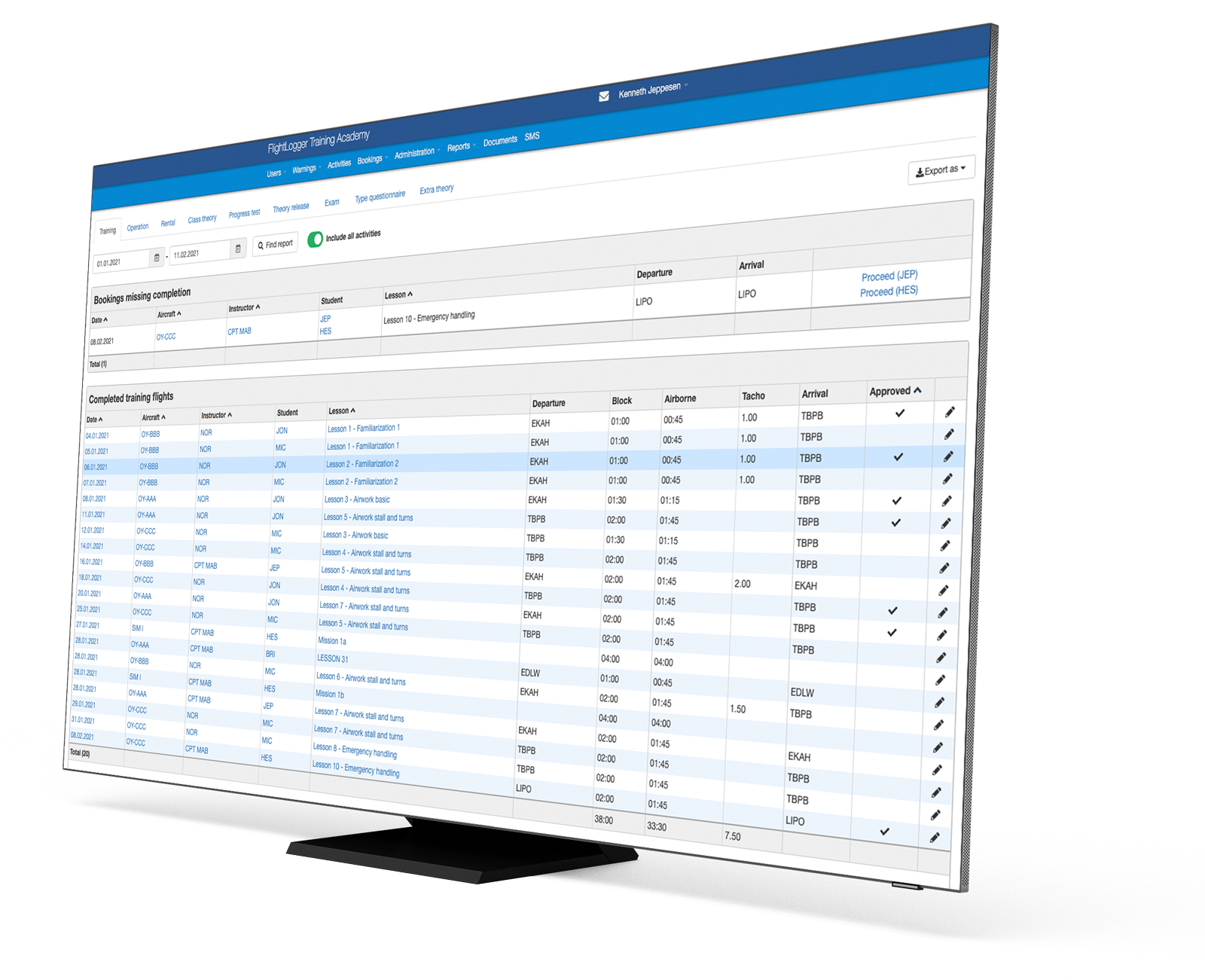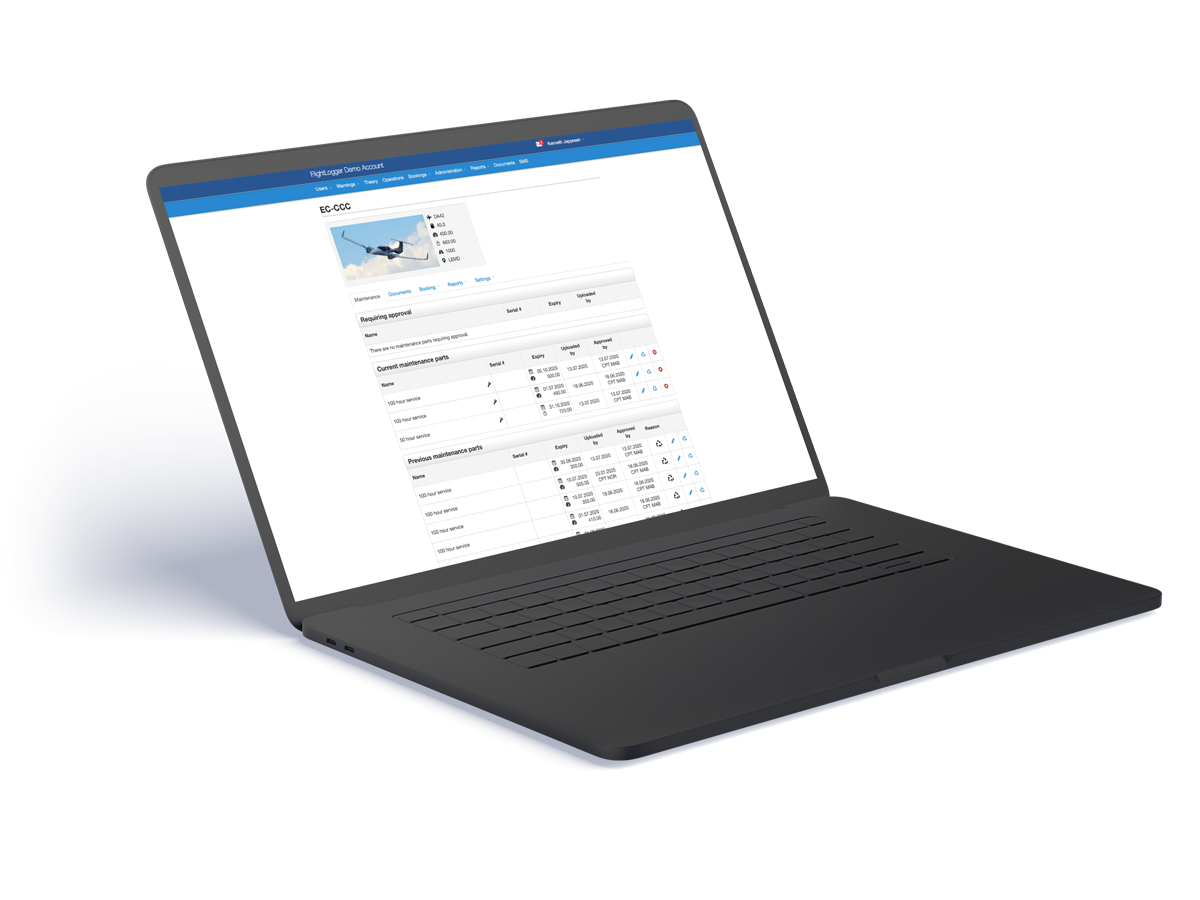 Keep Track of Aircraft Maintenance
Having all data in one place means FlightLogger helps you stay updated on the next aircraft service, allowing you to plan well ahead to keep your most valuable assets running as effectively as possible, thereby earning you more money.
Handle Rental and Operation Flights
Does your academy also offer aircraft rentals? No problem, just give your customers a renter login to FlightLogger and let them check availabilities and request the rental themselves – all you have to do is to approve the rental and send the invoice.
FlightLogger also handles ferry flights, scenic flights and any other kind of operation flight. And of course, you're in charge of who gets to fly.
FlightLogger CBTA Pro:
Create Better Pilots by Adding the CBTA Layer on top of Your Existing Exercises
FlightLogger offers the most advanced support to the principles of Competency Based Training and Assessment – EASA's new pilot training paradigm.
By using the built-in CBTA assessment system you can evaluate students based on the eight ICAO core competencies to optimize the quality of your school's training and assessment.
FlightLogger CBTAPRO by default adheres to the EASA and ICAO standards, but it's fully customizable to your school's preferences.
Learn more about the background of the CBTA method and our brand new offering in this blog post.
Connect via Integrated Message Center
FlightLogger comes with a complete message center that allows internal communication between your users. All the functionality you know from an email client, but in a closed environment.
Optional sign-off messages helps you stay compliant by making sure students, instructors, crew and renters are compliant before going flying.
Handle Files with Integrated Document Center
With FlightLogger you also get a document center with unlimited data storage. It works just like most cloud storage solutions so you can manage which users or groups have access to which folders and files.
The document center is fully integrated in the platform, making it easy to attach files to your lessons or to messages sent via the message center.
Take Your Data Onwards
As an administrator you have plenty of options to pull out data from FlightLogger. Choose from more than a dozen preconfigured reports and export in xml, csv or pdf file format.
Or, simply export raw data to be imported into your 3rd party systems or custom made report templates (see our guide here).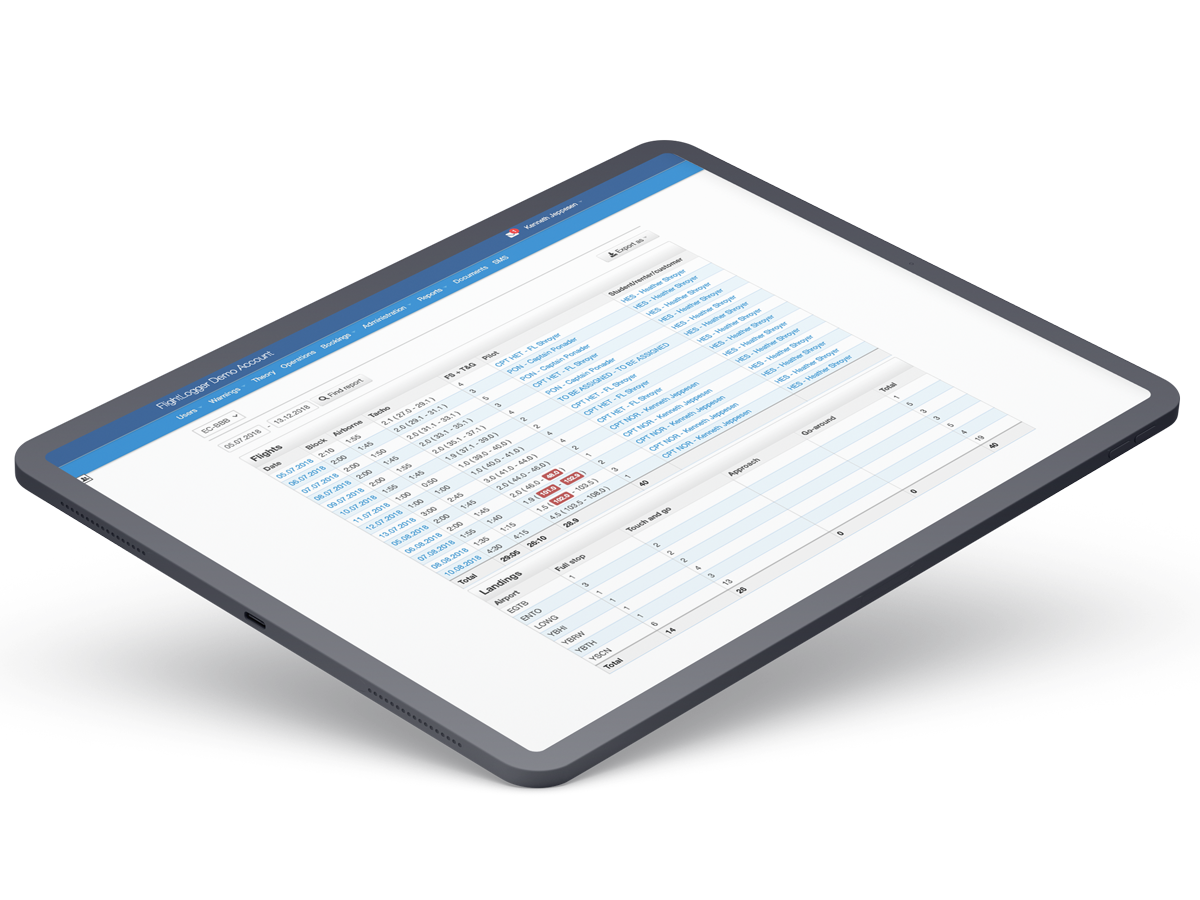 Keep Your Data Safe in our Hands
Taking good care of personal data (and all your other data) is more important than ever. All FlightLogger services are tightly secured and backed up on ISO27001 services from Amazon and Heroku.
We invest in the highest data security standards, which is why you don't have to worry about security patching, penetration testing and redundancy.
If you still want to store your data locally, just enable our built-in data backup module to have your own local backup of student records and reports via either Dropbox or OneDrive.
Standardize to Empower your Flight School
Increase Reputation and Growth
Standardization, compliance and documentation – all important parametres for your school being selected by both students and airlines.
FlightLogger provides the prerequisites to increase your reputation and facilitate growth.
Get Return on Investment
Provide the strongest backbone to your organization and focus on optimizing training to get the most out of your investment.
Better capacity utilization and quality of training gives you return on investment.
Be an Attractive Workplace
Give your staff optimal conditions for succeeding their jobs. FlightLogger makes work easier for the entire organization from CEO and Head of Training to your pilot students.
After all, happy employees and students are crucial for success.
Get Help When you Need it
FlightLogger comes with a 24/7/365 unlimited e-mail support plus phone support during working hours (CET). Our team of supporters and developers are always available to answer your questions and note down new ideas and suggestions.
With FlightLogger you also get access to our extensive online Help Center offering loads of text and video tutorials, webinar offerings and answers to all the most common questions. The Help Center is available anywhere from within your FlightLogger account.
Say no to Contracts and Bindings
At FlightLogger we don't believe in binding contracts. As a partner, you are free to leave at any time you wish.
This approach keeps us on our toes, always striving to do our very best to keep you satisfied with our services and develop the features that offer value to your flight school.
With that in mind, we are proud to say that very few – if any – partners have ever left FlightLogger for a competing solution since we began in 2011.
Get an Online Demo
More than 47,500 users in 40 countries can't be wrong, but maybe it takes more to convince you! Rather than offering you a free trial with no real data inside we would much rather give you a live demo of the platform.
Our consultants are experienced pilots and instructors themselves, which means you can discuss your specific needs and get answers to all your questions during the demo.
Book now and we'll reach out to set up a free online demo.