A note from Søren Rehné (FlightLogger investor and pilot).
Naturally we all cross our fingers, that the corona virus will continue to hurt as few people as possible and that the death numbers will start to decline to 0. My condolence goes out to everyone who personally, amongst family or friends have experienced the dramatic impact of the virus. Please remember, that we still need to have a good focus on the human side of the corona virus. But I hope, that it's okay also to discuss the business effects of the virus.
I assume that most people will agree, that we are still not able to predict what impact the corona pandemic will have on businesses and furthermore the indirect implications on unemployment, poverty or even the global mortality rate that these repercussions will have.
I would like to share how FlightLogger – as a business – experienced the huge setback in activity. But – more importantly – I would like to also share some really positive signals, as we are seeing them right now (June 3, 2020).
As everyone knows the airline industry has taken a really hard hit. And we are all still waiting to see in which ways the recovery will happen.
At FlightLogger we are helping more than 100 academies (ATO's and AOC's) in 38 countries around the world in securing highly qualified education of pilots.
Before the corona pandemic our customers had more than 1000 flight registrations per day in total. That's actually more activity than most large airlines have …
From March 16, 2020 we saw a huge drop down to only 73 registrations on March 29, 2020. That's a 92,7% loss of activity!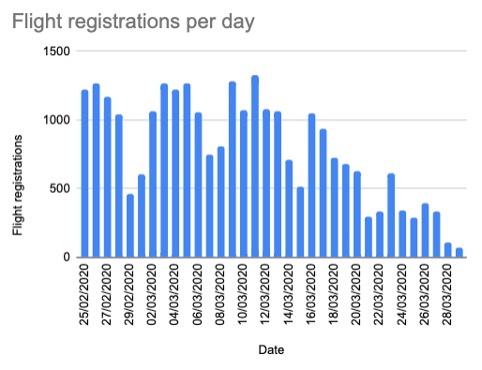 I hope, reading this post has made your day just a tiny bit more optimistic.
Let us all cross our fingers for a vaccine being developed really fast – and that businesses will have great recoveries.
At FlightLogger we are happy on behalf of our customers to see, that they again – on average – are having a lot of activity! Be careful – and stay strong!
Curious about the FlightLogger platform?
FlightLogger is a market leading software platform providing all you need to manage your daily flight school operations. To learn more, book an online presentation with one of our consultants.