On Wednesday 29th April at 6AM UTC FlightLogger will be releasing a major update with two significant new additions along with a list of improvements and bug fixes to the FlightLogger platform. The update is not going to cause any downtime on your accounts.
The new Flight Time Limitation Module
First of all, we are more than excited to release the very first version of our brand new module Flight Time Limitation Module (FTLM).
In short, FTLM helps you keep track of the total flight time of each of your students, instructors and crew and prompt customizable warnings when they get close to exceeding their flight time limitations. It's fully integrated with scheduling, meaning your booking administrators will get warnings when trying to book users that are close to, or have exceeded, their flight time limitation. Additionally, administrators will have access to an overview page showing all flight time limitation warnings, just like you know it from certificate warnings etc.
FTLM is released as an add-on module similar to the existing SMS, DIM, SAM and guest modules, but we are offering all our customers a free 3-month trial between 1st of May and 31st of July.
Get the full description of Flight Time Limitation Module, and see how you get access to your free trial here.
Improvements to our Message Center
Based on loads of valuable customer input, for which we are extremely thankful, we have added quite a range of improvements to our Message Center in this release. Here are some of the most important improvements:
Students can send messages to instructors and other students
Simplified Message Center layout – tabs
Message filtering
Users can mark messages as unread or archived
File upload available on replies and not just new messages
Amend recipients on sign off messages (for admins)
Additional improvements and bug fixes
Along with the new Flight Time Limitation Module and the Message Center update, we are adding quite a few other improvements to this update. Here are the new features and improvements we will be adding this time:
Enriched information on completed bookings
Need sign off warnings added to bookings
Lesson approval emails link straight to the lesson
Below follows a short description of each additional new feature and improvement of this release.
Enriched information on completed bookings
We have added additional information in the booking section, giving you a more detailed overview of bookings that have been completed. When hovering over a completed activity, you will now see a green info block saying "Status: Completed".
EXAMPLE OF A COMPLETED MULTI STUDENT BOOKING WITH ENRICHED DATA SHOWING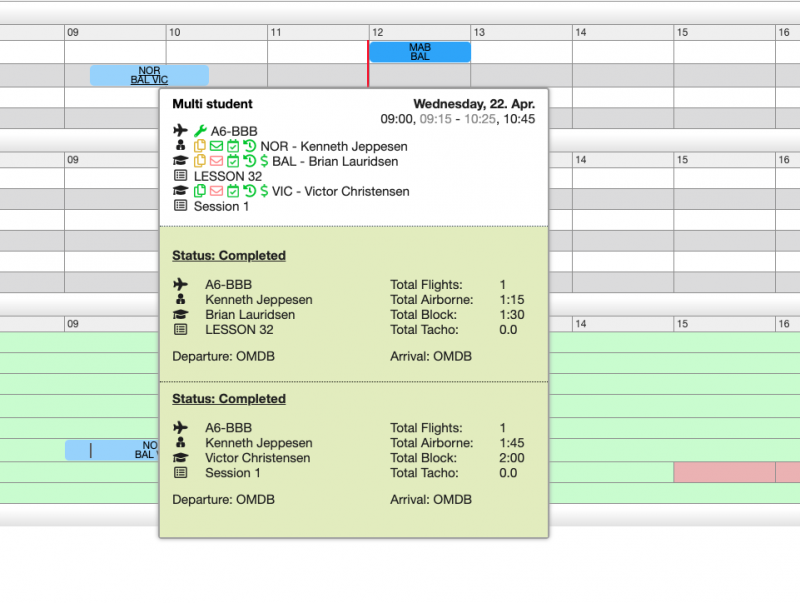 EXAMPLE OF A COMPLETED CLASS THEORY BOOKING SHOWING ENRICHED INFO INCLUDING ATTENDANCE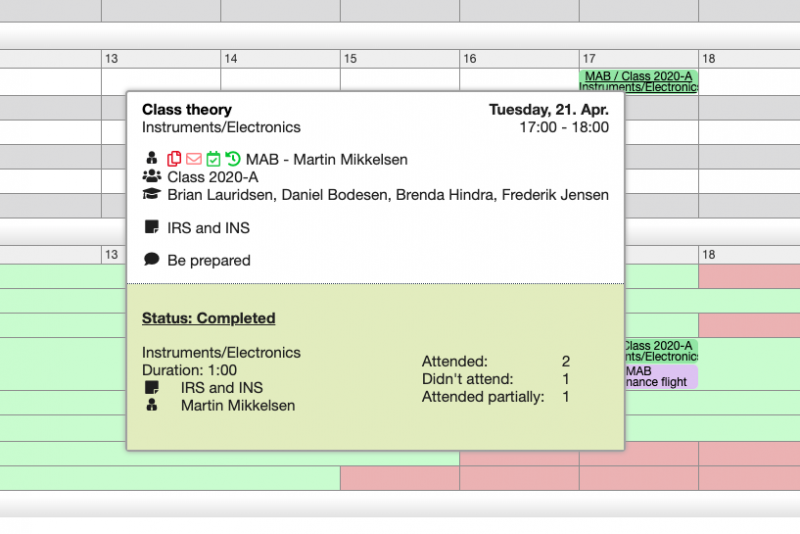 Need Sign off warnings added to bookings
FlightLogger will show a warning when booking an instructor or a student that has not completed a required message sign off. The warning will show in the same way as certificate warnings, availability warnings, Flight Time Limitation warnings (if activated), and student account warnings (for those who are using the Student Accounting Module). Need sign off warnings are depicted with the red envelope icon.
BOOKING WARNINGS NOW INCLUDE THE NEW NEED SIGN OFF WARNING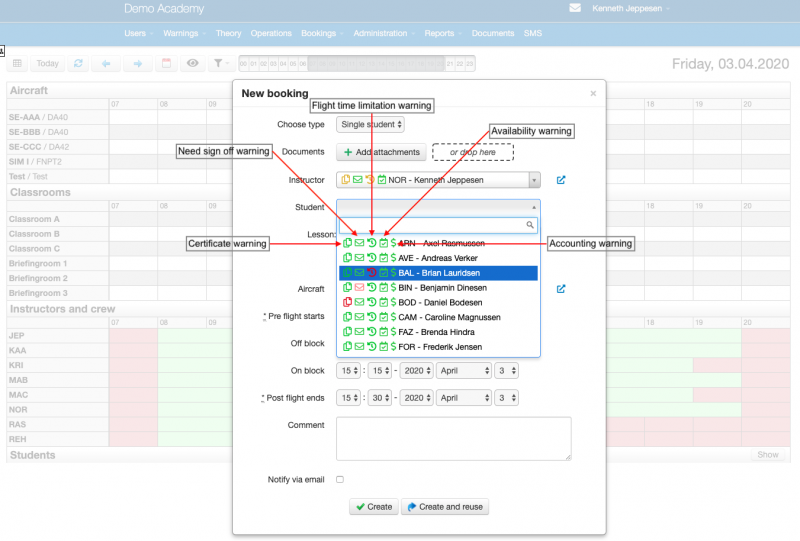 Lesson approval emails link straight to the lesson
Up until this release, when an instructor has registered a lesson as completed, an approval email is automatically sent to the student with a link that leads to the student's front page. With this update, the email link takes the student straight to the lesson page instead.
Minor bug fixes
As always, this new release includes a number of bug fixes based on the highly valuable feedback of our users. We would like to use this occasion to thank you all for sharing your experiences with the FlightLogger platform with us. Your input is essential for us in our constant striving to make the best flight school management solution possible. Thank you!