On Tuesday, Sep. 11th at 06:00 AM UTC another update will be released for free to all customers using FlightLogger.
The release will include a number of new features and bug fixes. The most notable features added are related to CSV/XML exports, rental requests, the student booking window and email templates (GDPR).
Read more about each improvement below.
New account setting – Export of "time" in CSV and XML
After the last update to this area of FlightLogger we promised to get back with a better solution, which is now ready!
Hence admins can now control how "time" is exported when exporting different reports from FlightLogger to CSV and XML.
The new account setting can be found via Administration->Account settings->Report settings, and allow export of "time" in any of the following:
Seconds
Minutes
Hours
Hours:minutes
Hours:minutes:seconds
Note that all reports are defaulted to export "time" in the same format after this update as it did before the update.
This to avoid any confusion for customers using the FlightLogger export functionality on a regular basis.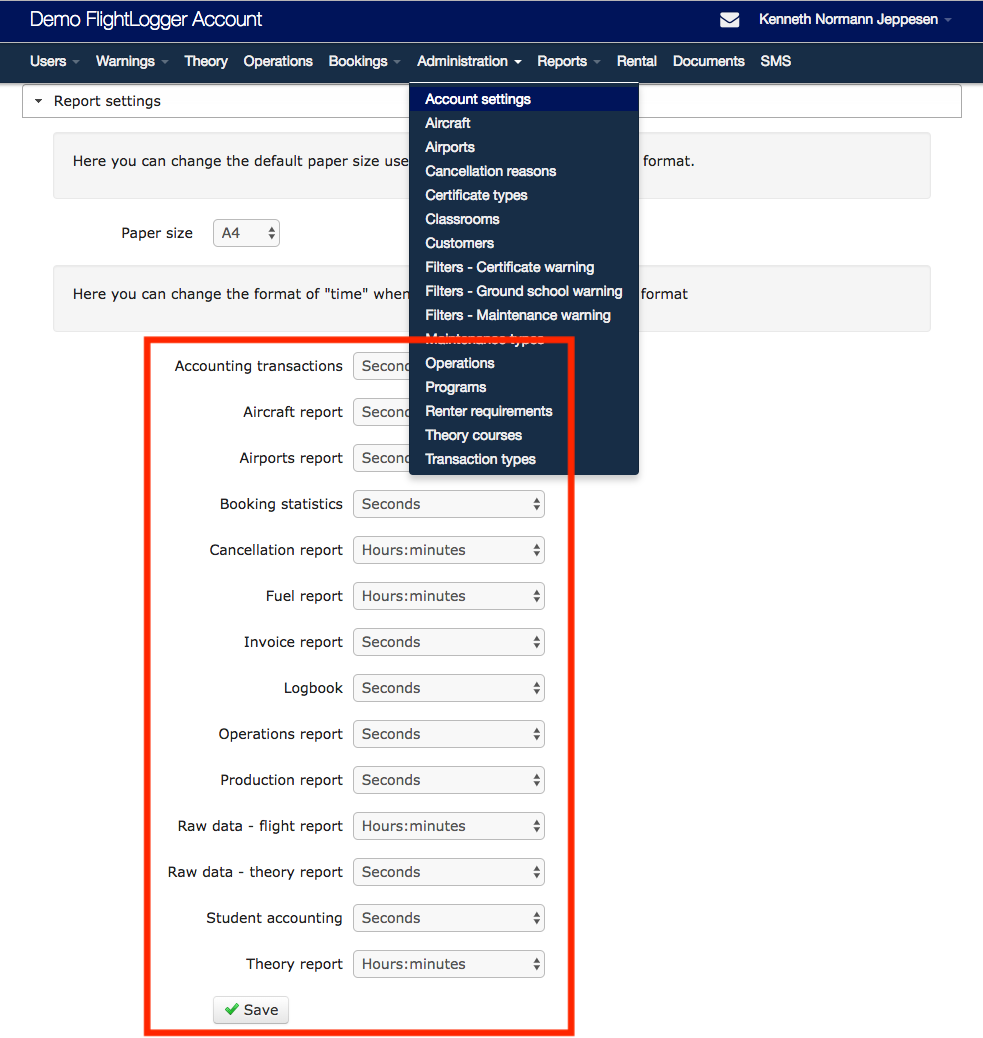 Improvement to rental requests
As of today, renters are able to request an aircraft or simulator rental, which rental administrator(s) approves or declines.
With this new update renters will be able to delete a rental request including a "reason for deletion".
When deleting a rental a notification email will go straight to the rental administrator(s) including the reason for deletion.
In a similar way, the rental administrators will be able to include a "reasons" for declining and/or approving a rental request.
All email notifications are customisable in the FlightLogger email template area via Administration->Account settings->Email templates

Improvement to student booking window
On occasions, students can be attached to multiple active training programs at the same time.
Customers have reported that this coursed a complex student booking window, when using it for scheduling students.
Hence a new improved version of the student booking window will be released with this update.
The new version will be splitting each active program of the student into multiple rows giving a better overview for the scheduler.

New email templates for Message Center (GDPR)
Five new email templates have been created to improve admin ability to limit information leaving the FlightLogger platform.
An email template has been created for each message type in the message center:
Normal message
Maintenance message
Need sign off message
Feedback message
Reply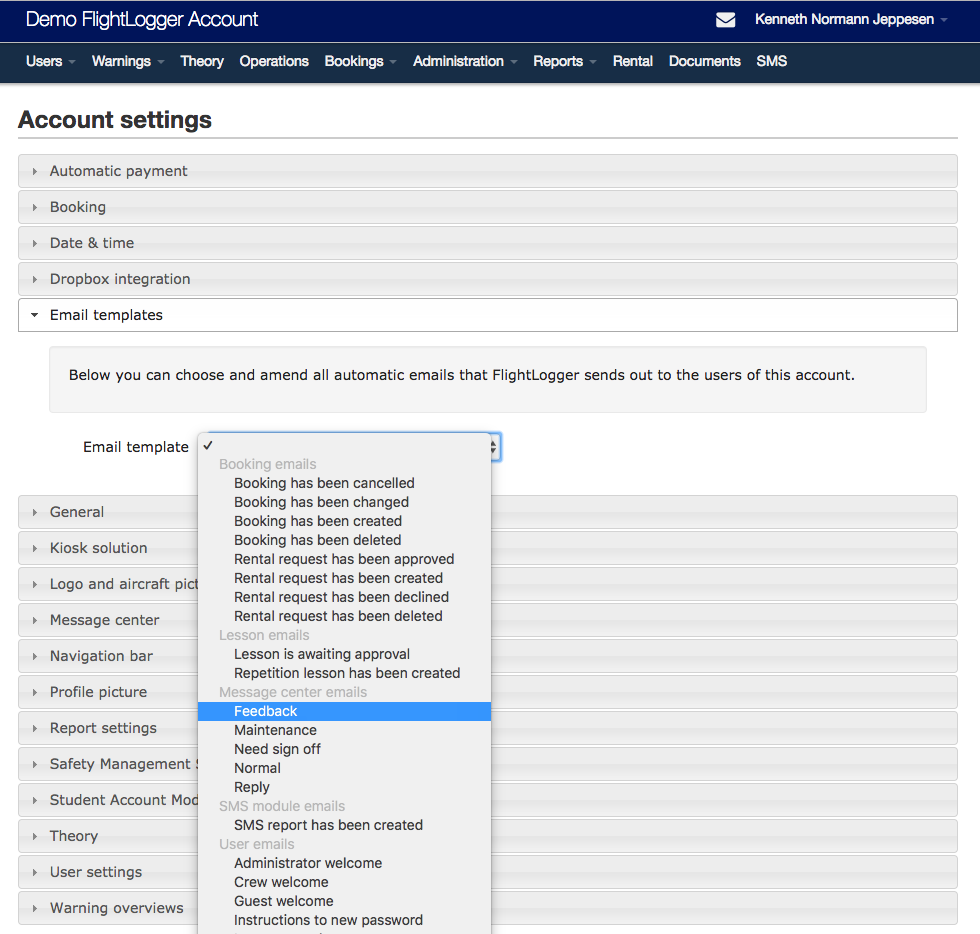 Due to GDPR customers have requested the ability to limit message content in emails sent from the message center. Using the new templates admins can define the content and standard wording either by adding text in the already existing HTML or by simply adding information to the template.
The following example shows how to limit the message content from leaving the FlightLogger platform by using the new email templates.
Go to Account setting->Email templates->Select relevant template->Remove the HTML that includes the original message content->Add your own text e.g. "Go to FlightLogger to read the message!"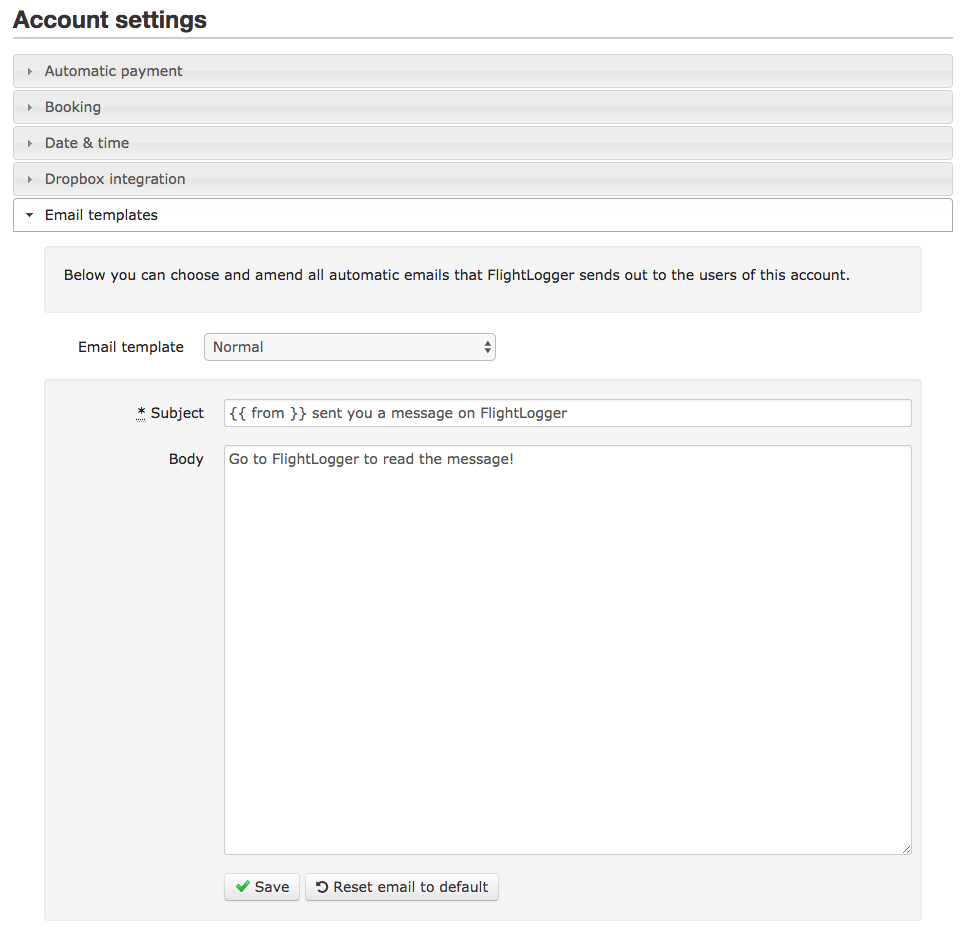 When the above change is saved all new messages from FlightLogger will notify the receiver that they should "Go to FlightLogger to read the message!" instead of sending out the message content as it is done today.
In a similar way all other email templates can be changed according to the wish of the administrator.

Performance optimization and other improvements
Together with these new features, FlightLogger has also included more than 15 smaller changes/fixes/improvements.
Each of these relates to occurrences in "edge cases" and will not be described further.
The FlightLogger Team would like to thank all customers for using FlightLogger and for your continuous great feedback!