On Wednesday 21st of December at 09:15 AM UTC FlightLogger was updated with a few new improvements. The update did not require any maintenance mode. Below you can read more about a few of the updates.
Single student bookings on frontpage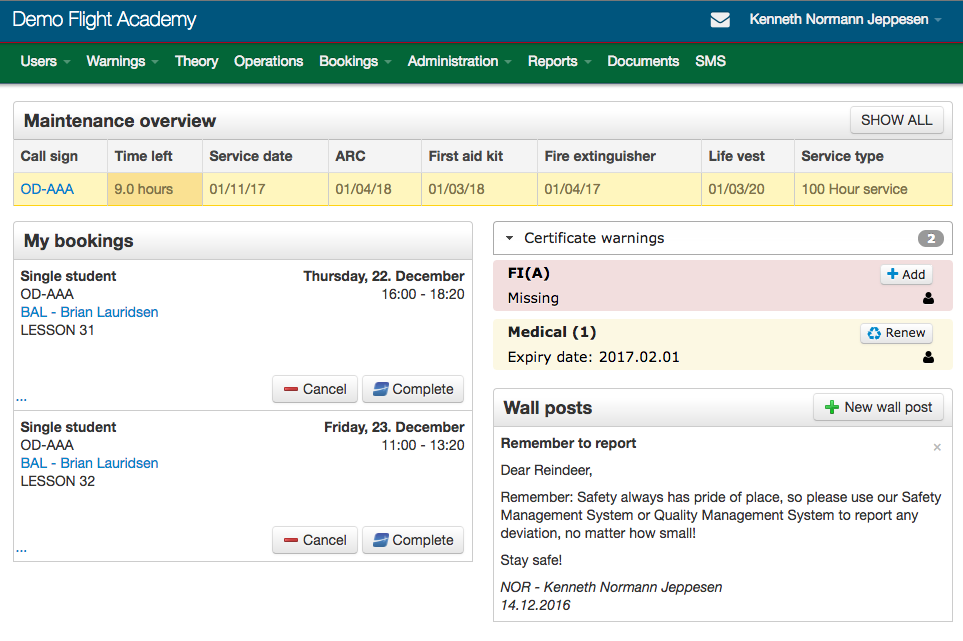 On "single student" bookings on the front page it is now possible to see the full-width name of a student.
Bookings -> Create bookings
The 'Create bookings' page has had multiple improvements
Top bar buttons changed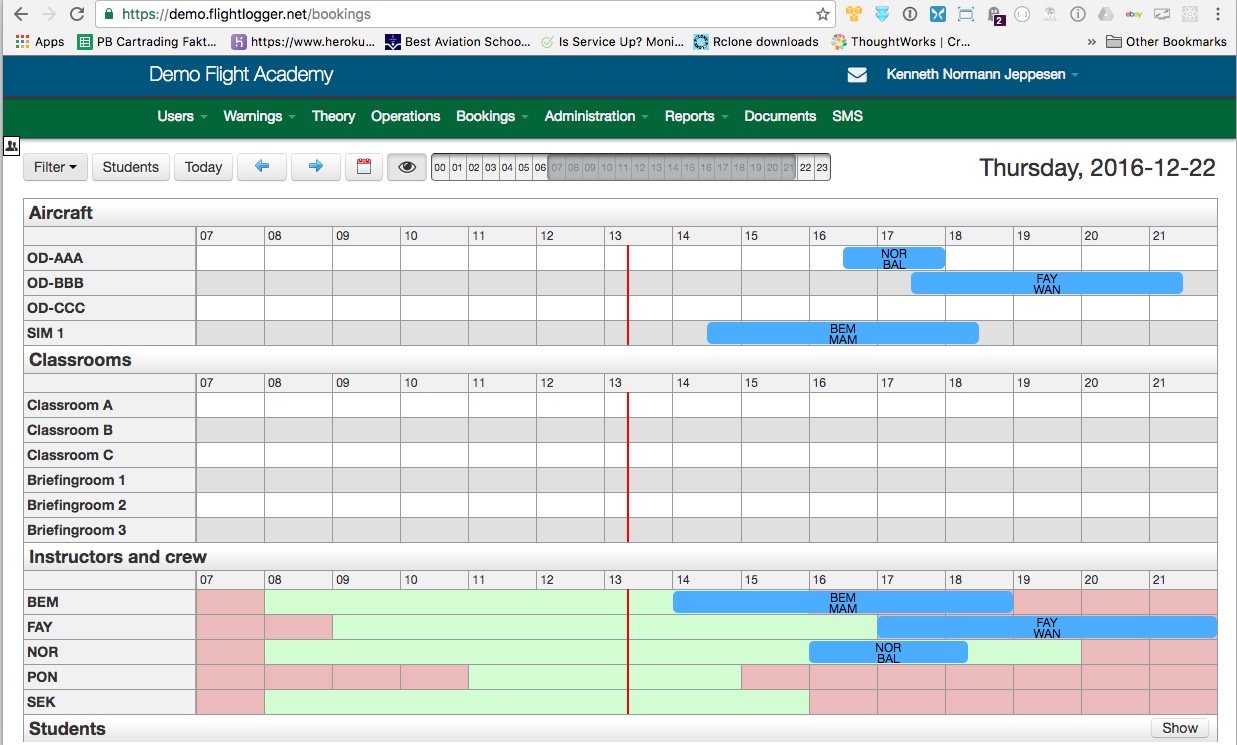 Based on request from customers FlightLogger has changed the size an sequence of the "top buttons". Notice how the wider buttons for "Previous" and "Next" day makes it even easier to browse through the days.
Calendar – now with 'Stay open' checkbox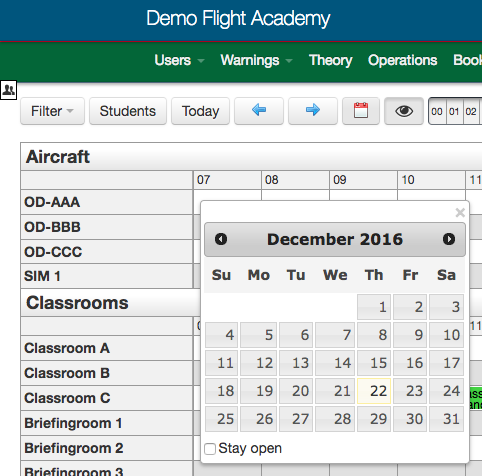 Customers who wanted to browse quickly to a new date asked if the Calendar popup could close after each click. In order to support this – and the existing customers, that want the calendar to stay open at all time – the popup now has a check box 'Stay open' which you need to click to avoid the popup from closing after each date selection. Note that you now also have a 'x' in the top right corner which makes it fast to close the popup manually.
Top line stays at top when scrolling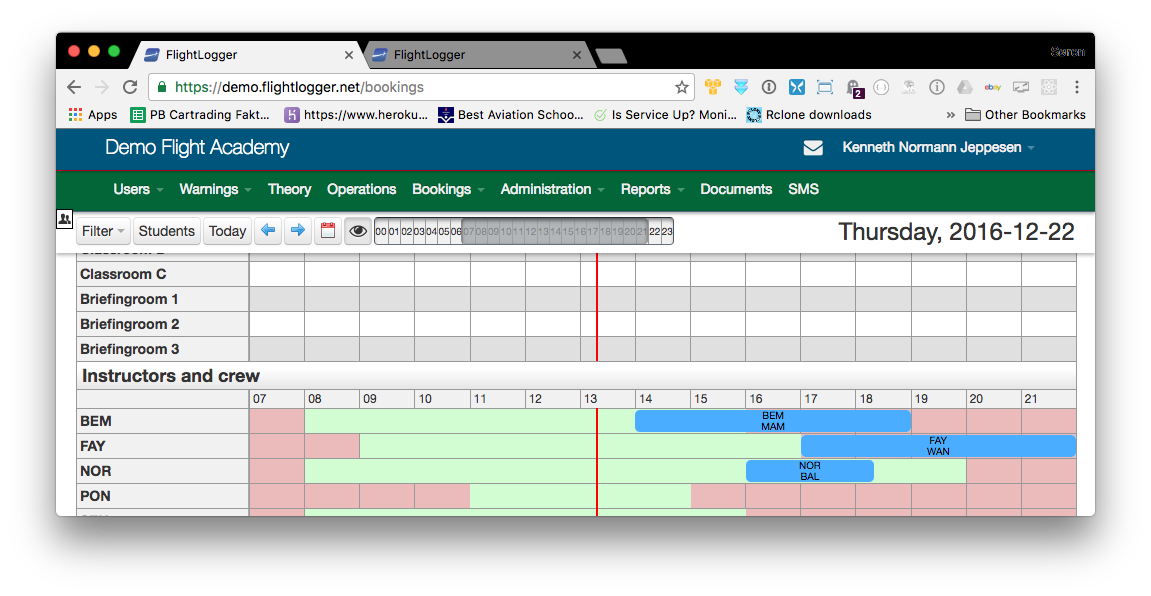 When you scroll down the top bar now 'sticks to the top'. This has been a customer request for some time and our new developer – Lars – made sure to have this change done.
Students popup window – new color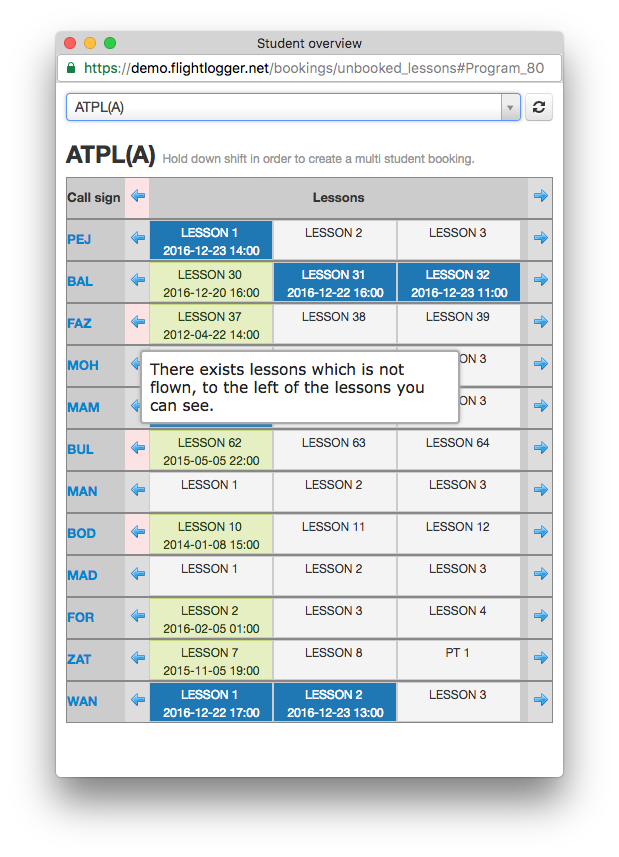 The Students popup window has had multiple improvements. The first is that there now is colors showing in the "left side". If you hover you will see the text 'There exists lessons which is not flown, to the left of the lessons you can see.
By default the popup window will position each student with the last flown lesson as the first visible lesson. The pink arrow indicates that you might need to book something 'to the left'.
Students popup window – hover on student name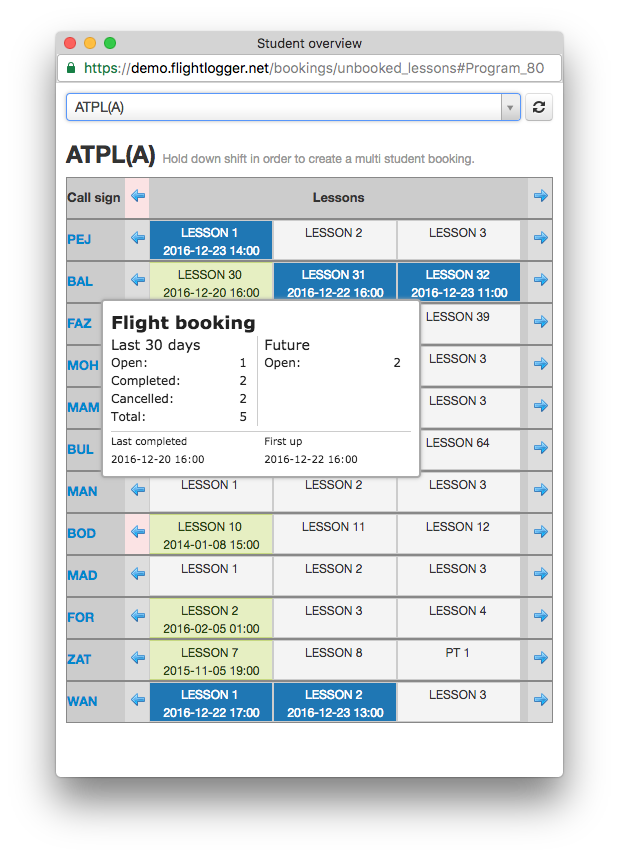 When you hover on a student name you will see a popup including booking statistics. You can control 'how far back' the statistic should go by changing the default value under Administration -> Account settings -> Bookings -> Student window. Default is 30 days. We hope the displayed information is self-explaining. Note though that it is "current time" – the red line – that determines if an open booking should appear under 'Last xx days' or 'Future' bookings.
Students popup window – hover on lesson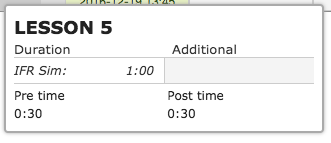 When you hover on a lesson you will see a popup including lesson information. This example shows 1 hour of IFR Sim time. Each lesson can hold suggestions for hour registration on multiple items – as an example a lesson 'just before solo' would contain 'VFR Dual' and 'VFR Solo' time. The popup will list all suggestions that don't have a value of zero.
Under the list of hours FlightLogger also shows pre- and post-time. They are represented as "grey lines" when you drag-and-drop exercises. This new feature allows you to know about these times before you even start to drag-and-drop.
Custom lessons – Title is visible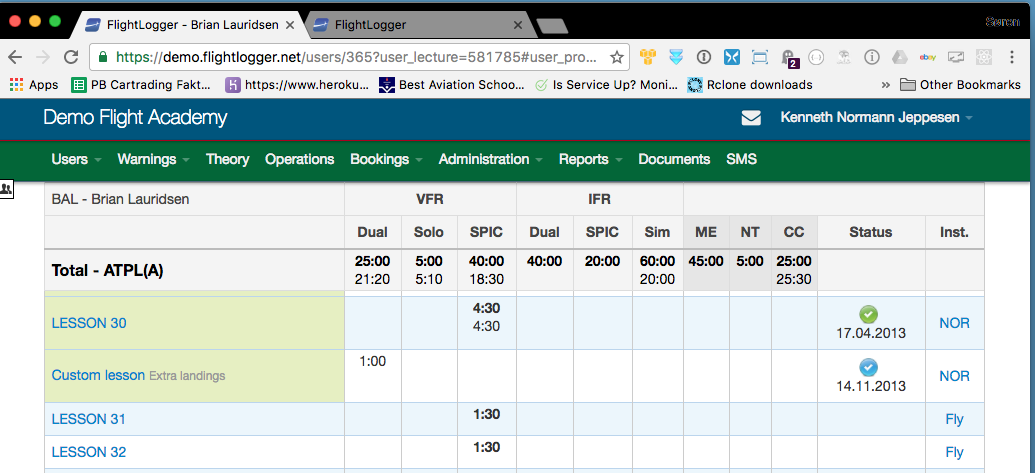 The title of a custom lesson is now also available on the program overview. Note that if you write very long titles the interface will reflow the text – and perhaps not look 'nice'.
Certificate types – deactivate instead of delete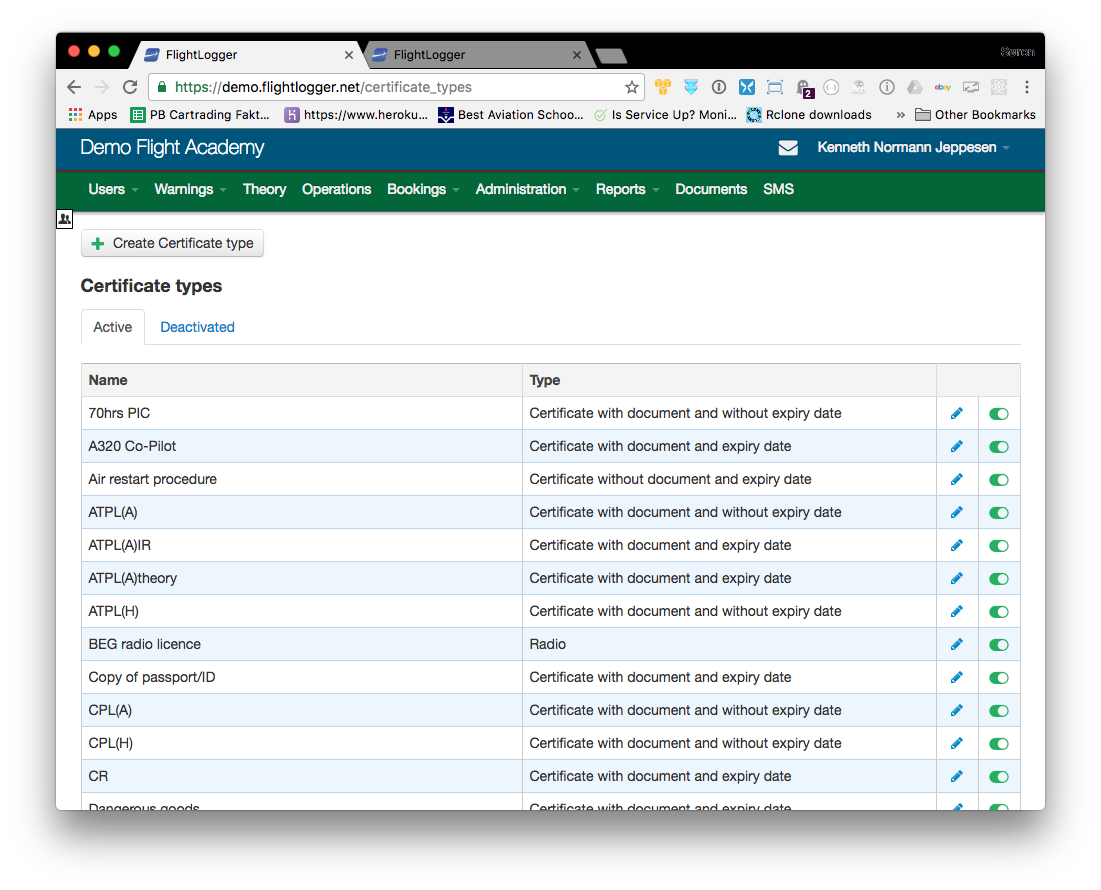 Under Administration -> Certificate types FlightLogger has made an update so that 'old certificate types' now also are deactivated instead of deleted. This change is done to keep FlightLogger as a very consistent solution where 'things are done the same way'. FlightLogger believes that this heavy focus on user friendliness has made the solution the 'top choice' amongst ATO and AOCs.
Kiosk links – choice for cancellations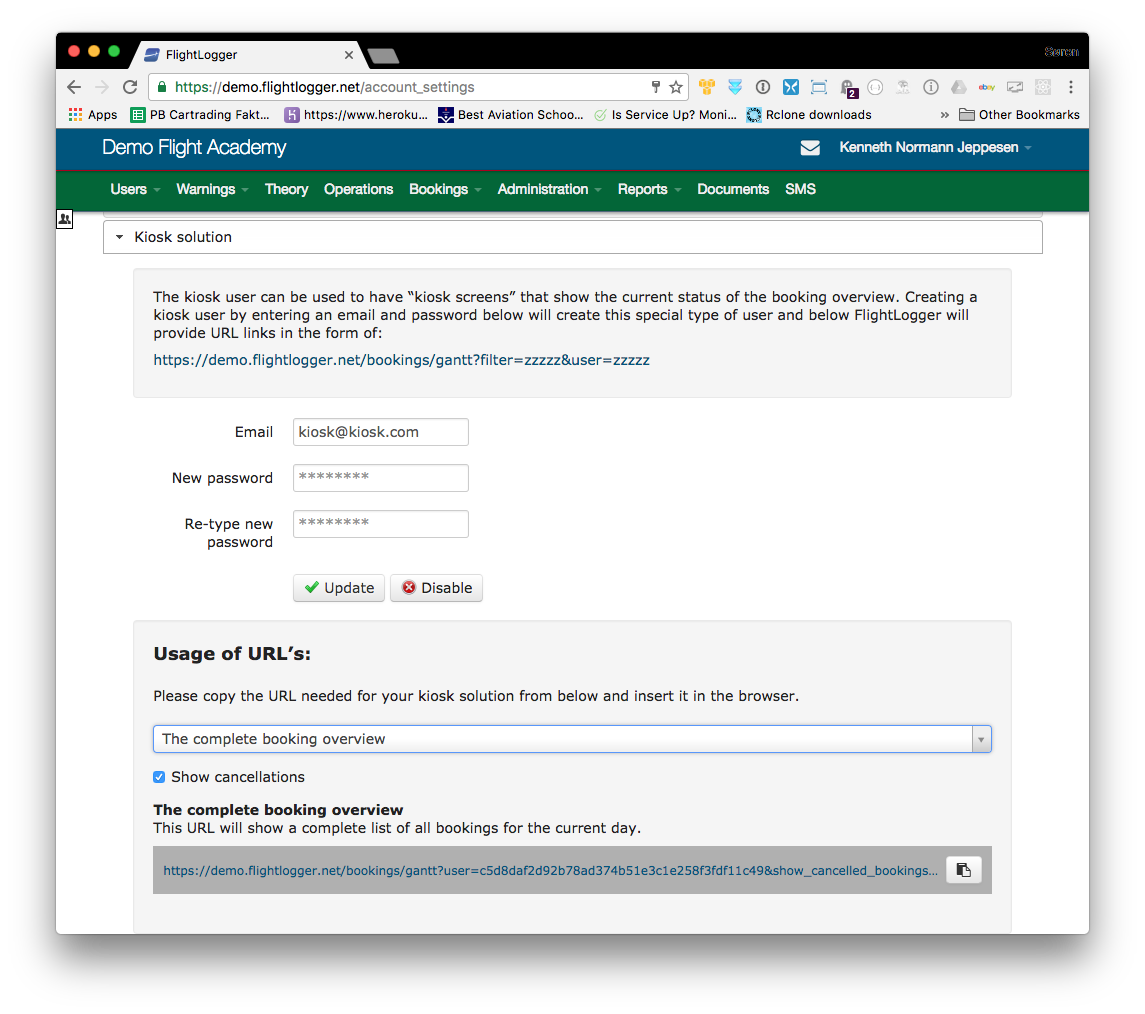 Customers that have a screen in the OPS room can now control whether cancelled bookings should stay visible or not. The new 'Show cancellations' item will update the link to say what option should be used on booking pages.
Other smaller changes
As usual FlightLogger was also updated with other changes. Most of these changes are not visible and are simple optimisations.
Merry Christmas & Happy New Year
FlightLogger wishes everyone – customers, users, partners and even competitors (when they start to appear 🙂 ) – a Merry Christmas and Happy New Year.